This marks the beginning of the "No Sleep Til 4:20" tour because we just kept doing it forever until 4/20.
March 6: Washington, DC
@killquilty from last night pic.twitter.com/PGPT9JmqvG

— Andrew Markowitz (@amphotography21) March 7, 2014
March 7: Savannah, GA
Savannah Stopover. Still exhausted from Europe jetlag.
Thats because i am... RT @killquilty: i consider @Pill4180 my friend

— Pill (@Pill4180) March 7, 2014
March 8: New Orleans, LA
We got called divas because the show had to get moved to a different location where we played at 3:30AM due to acute sensitivity to cigarette smoke resulting in 3+ weeks of sinus and respiratory issues, but not until after we found Po'Boys and ghosts. (I guess the picture below was taken at the house where Kathy Bates' character lives on
American Horror Story
or something, which I guess is Speedy-related at this point.)
March 9: Corpus Christi, TX
"There were cool tacos." - Matt Robidoux
They projected the movie
Breaking Away
while Speedy, Pile and Big Ups were playing.
March 10: McAllen, TX
March 11 THRU March 15: SXSW, Austin, TX
"Exhausting and educational." That's my official statement on SXSW. I had to drive myself to the emergency room on the night of Wednesday, March 12 due to a dislocated jaw resulting in having to cancel our first of 2 Exploding in Sound showcases, which would have been our third show that day.
Here's some pics of Ex Hex.
Whoa, no way. Here's DJ Rashad.
Whoa, no wai, here's dat Gary Numan.
We also saw the
Veronica Mars
movie and
Grand Budapest
with Pile at the Alamo Drafthouse, where we tried to recreate the
Moonrise Kingdom
picture from 2012 summer tour:
March 16: Fort Worth, TX
March 17: Little Rock, AR
Last show with Big Ups. :(
Kris Kuss from Pile found some sweet Texas growlers.
PUP OF THE DAY
March 18: Norman, OK
This was the one where the sound guy was dat huge dick.
March 19: Kansas City, MO
I think this was the one where Raya.
March 20: Iowa City, IA
No memory of this.
March 21: Omaha, NE
Ye. Art gallery. Party drugs. The weird coke had oatmeal stout or something. Darl said don't write it. Pile didn't.
March 22: Denver, CO
x touched my dick.
March 24: Reno, NV
Sweet band. Sweet zine. We got kicked out of a casino. Blood On The Wall. The Clean. I went to a Taco Johns and it sucktd.
More touring updates. On March 6, we left for Washington to start the next segment of our tour with chill hotties Big Ups and studly tough bros Pile.
13/02/14: Birmingham
At our first show outside of North America, we were informed by David Catmur (our new European TM) that we were "illegally loud." Later that night, we went to some party where Joanna Gruesome and their friends were drunkenly belting out some big hits from bands like Taylor Swift and Kleenex.
Finally. They're here. Speedy Ortiz in the UK. pic.twitter.com/HurjKllyRj

— Matthew Cooper (@matt_blonde) February 13, 2014
14/02/14: Leeds
Happy VD. Prior to Joanna Gruesome's arrival at the Leeds venue, someone strategically tagged the backstage area with hot pics of their guitar player Nicholls.
15/02/14: Glasgow
"I had the vegan haggis." - Sadie
16/02/14: Manchester
Our favorite Joanna Gruesome song is "Wussy Void,"
and we were all kinda bummed/shocked when they told us that they had never played it live. As it turns out, we're persuasive enough that they ended up debuting the song on this night at the Manchester show. (I personally got chills from how dope it sounds live.) Afterwards, Matt played an open mic set at the bar next door where Sadie bought everyone shots to celebrate Owen from JG turning 22, and someone put "22" by Taylor Swift on the jukebox.
"They also had the best wallpaper ever." - Sadie
17/02/14: Manchester
We didn't have a show on this night, but instead we were invited to play a few songs on Marc Riley's BBC6 show where we got to see him air guitar Neu!, Here We Go Magic, TEEN, Pink Floyd's "Arnold Layne" and Ezra Furman (Jonah from Krill's brother). We geeked out a bit when we found out that Marc used to play in The Fall, and we bugged him for a couple John Peel stories before we were outta there. (I'm in the weird little drum booth in the picture below.)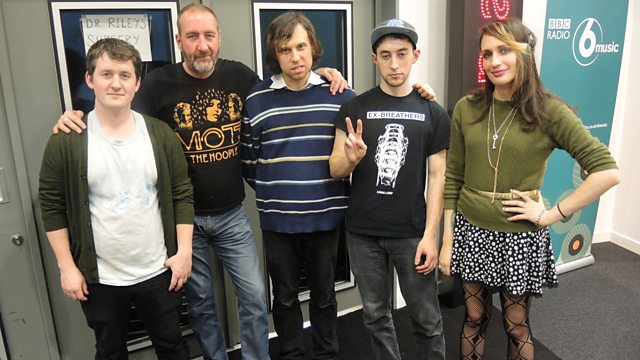 18/02/14: London
We're not typically comfortable playing acoustic sets, but NME said we could do any cover we wanted, so we chose "Bugman" from Blur. (Has this video gone up yet?)
did our 1st acoustic set for @NME, didn't hurt much MT "@lucyjones Speedy Ortiz in session & they sound spectacular pic.twitter.com/QeTqeWO41s"

— sadie dupuis (@killquilty) February 18, 2014
The show at Birthdays was one of the craziest we've ever played. It looked sorta like Cake Shop in Manhattan, except the crowd was just as intense as an Allston basement show. Peep
Luke Pyenson's dope review
.
19/02/14: London
XFM Session & ATP Show with Joanna Gruesome
20/02/14: Brighton
Last UK show. They kicked us out promptly at 11:00 for teen dance party. :(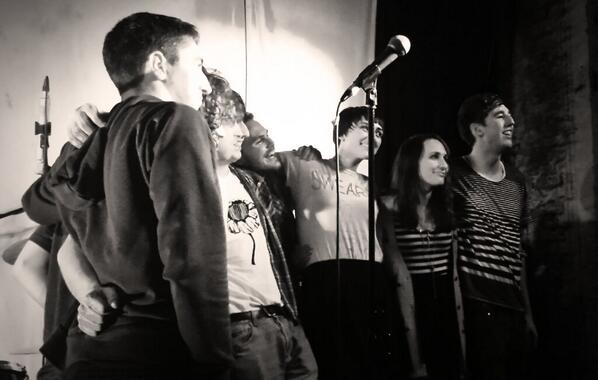 21/02/14: Paris
We saw no fireworks at the Fireworks Festival. But we did see Yuck (pictured below) as well as Childhood and Thumpers! Yuck's drummer Johnny entered our shared backstage room wearing a Greys t-shirt which was like secret code for "these guys rule." Dylan from Cloud Nothings lives in Paris, and he came out to chill as well. I saw the Eiffel Tower from a distance for maybe like 5 seconds, so I can finally say I did that. It was illuminated with green and blue glowing things if I recall correctly.
22/02/14: Lille
We played on a fucking boat. (It was anchored and docked, but still we played on a fucking boat.)
Also, I had the best croissant of my life.
24/02/14: Antwerp
learned about the american dinner pic.twitter.com/SB5BGiLptl

— sadie dupuis (@killquilty) February 23, 2014
25/02/14: Amsterdam
We saw Liam Gallagher's band Beady Eye who were definitely funny and annoying, but at least they played "Cigarettes and Alcohol." The crowd started Snapchatting during "WonderLOL." We weren't allowed to start the Speedy/Eagulls show in the venue upstairs until after Beady Eye was all done and finished. They used 4 dressing rooms. Also cat museum (see pics below), torture museum, weird film museum, Van Gogh museum.
"The modern art museum had a lot of cool wallpaper." - Sadie
coffeeshops are open 420 hours a day 420 days a week 420 weeks a year in amsterdam pic.twitter.com/HeUeD7yLpC

— sadie dupuis (@killquilty) February 25, 2014
26/02/14: Hamburg
Our first of 2 shows with Jealously Mountain Duo. We played in a WWII anti-aircraft bunker.
27/02/14: Copenhagen
Sadie finally meets her remote bandmates from long distance side-project-thing
Dark Warble
! (See pic below.) Also, I bought a beer called Miami Vice and another one called Dude. Both tasted amazing.
28/02/14: Berlin
Hung out with Chris Morgan and Gary Walker! 2nd of two shows with Jealously Mountain Duo!
01/03/14: Vienna
Travelled through the Czech Republic while jamming out to a "check" playlist:
Beastie Boys "Ch-Check It Out"
Beyonce "Check On It"
Beck "Cancelled Check"
Two Inch Astronaut "Check the Yard"
Ice Cube "Check Yo Self"
And a few episodes of Steve Brule's "Check it Out" series.
In Vienna, we ate Vegan-Schnitzel.
Darl drew stuff on the plane ride back to the USA.
So yeah. Tour was fucking dope.
Current Mood:

dizzy

Current Music:

disco doom
During our three-week "break" (HA, break, yeah right...)
...We played a couple shows with Los Campesinos...
...The best Berfest ever took place in late January/early-February...
...And also, we also did a couple release shows for
Real Hair
in Brooklyn and Boston. Here's some pics and things...
TUESDAY JAN 21 BOSTONWEDNESDAY JAN 22 MANHATTAN
Chillin balls with Los Camp...
FRIDAY JAN 24 BOSTON
Back in Boston again for giant beers at BERFEST. Fun times with Jeff Meff...
FRIDAY JAN 31 FORDHAM
There was a No One and the Somebodies tag on the piano at the coffee house...
FRIDAY FEB 7 BROOKLYN
Brooklyn Bazaar release show with Krill, Infinity Girl, Heeney and Odonis Odonis.
Fun pics on BV...
SATURDAY FEB 8 BOSTON
Tasty Burger release show with The Channels, Sneeze and Idiot Genes.
Fun review and fun pics from our homie Christine Varriale...
MONDAY FEB 10 MANHATTAN
In-Store at Other Music...
A review and some pics and a setlist were posted
right over hurr...
TUESDAY FEB 11 MANHATTAN
On this afternoon, we got to eat at Google's incredible cafeteria where we each probably consumed an appropriate amount of food for 4 normal-sized humans, but we are all incredibly obese under our loose clothing so no one can tell. During the Google hangout q+a interview with David Bevan, Senior Homie of SPIN Magazine, (which is still available to stream
http://www.youtube.com/watch?v=d3kt20KxgLQ
) we were all very stuffed full of delicious Google food. (Despite all of this, they still can't explain why the Android "Talk" app has to get entirely replaced by the "Hangout" app. Why can't we just use both? NOT COOL, GUYS.)
A few hours later, we were in Newark, New Jersey hopping on a plane to our next destination...
(to be continued)
Current Mood:

i got a hungry man's belly

Current Music:

nelly
Sup this is @MALFC
It's that time once again to update the journal because everyone's bitching at me to get it done. Guess how sorry I am that you've been hitting the refresh button on our livejournal for the past 2 months so that you can creep phone pics of us being boring and lame. Take a wild guess.
For two weeks in January 2014, Grass Is Green and Speedy Ortiz were servin' Dimes of Hard.
FRIDAY JAN 3 DANBURY CT
DAMBURY
SUP BADBEARD
WXCI kids came out to party. Fins played their Greatest Hits album in its entirety. Matty P was headbangin.
SATURDAY JAN 4 PHILLY
Devin McKnight's birthday. No cake though because cake sucks. The band and the cake.
SUNDAY JAN 5 BALTIMORE
Cool show started at like midnight or some shit. Some complainer dude on ILX was like "Speedy looked like they didn't wanna be there." Oh well if you had to play at like 2AM I'm sure you'd be thrilled. Roomrunner did kill. Dan Frome was probably headbangin. Denny was like "make sure you bring the football chair" and so here's a picture of Matt in the football chair. It took a long time to orally inflate...
MONDAY JAN 6 RICHMOND
Some girls gave us their fries at Strange Matter. Simpsons arcade game. Much love for Sundials.
TUESDAY JAN 7 CHAPEL HILL
Mike Caulo is nice and brought us to Merge Records.
WEDNESDAY JAN 8 CHARLESTON
"I broke and entered someone's house by accident and I thought I was going to get shot." - Sadie Dupuis
"I slept in Mustafa's bus." - Matt Robidoux
"Southern Femisphere was dope." - Sadie Dupuis
THURSDAY JAN 9 JACKSONVILLE
Fred Durst. I think this was the one where the dude was wearing a Zwan shirt. Self had played at this club.
FRIDAY JAN 10 TAMPA
We found a cool dog in a car and didn't see the fountain of youth. Someone traded us a bunch of books for a
Sports EP
.
SATURDAY JAN 11 TALLAHASSEE
We were later informed that this was the 2nd and final show at this venue (The Office Lounge), which figures since this was probably the best show of tour. Surface to Air Missive stopped over to hang out.
SUNDAY JAN 12 ATLANTA
Servin' dimes of hard. Pill (a.k.a. @pill4180) responded to @killquilty's tweet and said "I'm there" but he actually didn't come hang out. The next day we hit up Fat Matt's BBQ, but not until after Adult Swim let us touch things at their office and gave us Squidbillies cup holders.
MONDAY JAN 13 BIRMINGHAM
TUESDAY JAN 14 NASHVILLE
Even though we missed the Self show a few days prior, this did not prevent Gnarwhal from decimating skyscrapers. Also this was the release date of Grass Is Green's
Vacation Vinny
LP.
WEDNESDAY JAN 15 ASHEVILLE
Matt, Andy and Raya did a Hare Krishna jam session thing.
THURSDAY JAN 16 CHARLOTTESVILLE
Worst stomach pain of my life. Not joking.
FRIDAY JAN 17 WASHINGTON DC
PUPS OF THE DAY (yes, we know one of them is a cat)
SATURDAY JAN 18 PRINCETON
They had cute pigs.
SUNDAY JAN 19 HOLYOKE
NME accurately reported that I "flipped out, then calmed down."
Current Mood:

dimes of hard

Current Music:

dimes of hard
here
and
here
). hope your NYE was as eventful as ours (top story: $1 cheese pizza).
it's been a while since i hopped up on the good ol' livejournal mechanical bull.
reliable sources have told me
that "if you take your top off before you get on the mechanical bull, you won't fall off," so maybe we should have steve hartlett of ovlov fame filling in as our 2014 scribe, since he had no problem getting shirtless for the duration of our december tour with the breeders. he was filling in on guitar for matt on a couple of dates, since matt was leading the well school's annual christmas concert back in new hampshire (aww).
not to worry, though; the breeders and their super cool crew (sup mike, sup kyle, sup mark, sup sam) made great company in matt's absence (and in his presence). particularly, we learned that josephine loves camouflage of all kinds, kelley loves red and black plaid, kim believes she has
something in common with brad pitt and marky bark
, carrie is pretty darn good at drawing a fiddle on a bass, and jim has an uncanny knack for sticking his tongue out while drumming. further food for thought: is jim macpherson the same person as hayden karnitz?
sweet bass for sweet sweet darl:
we did some other cool things in december. one of those involved playing live on WXCI for mike's last radio show of the year and for the foreseeable future, since he's taking a leave of absence so speedy can tour until we h8 music. it was billed as the "late night noise holiday spectacular/2013 mixtape" and there was trivia, pizza, palehound, and ovlov. mike did
a full recap of the countdown here
.
earlier in the month, we won a boston music award for best new artist. more importantly, we formed a nu-metal supergroup with mems. roomrunner, potty mouth, christine varriale at the award show.
finally, we're leaving today on a several week
tour with our BFFs grass is green.
we'll have the long-awaited 'tour mix #3' available at shows, in addition to this beautiful poster by one of our favorite comic book writers/artists, michael deforge.
01/03 - Danbury, CT at The Heirloom Arts Theater w/ Fins, Vundabar
https://www.facebook.com/events/205624192956187
01/04 - Philadelpha, PA at Golden Tea House w/ Bleeding Rainbow, Hermit Thrushes
https://www.facebook.com/events/451631581615218

01/05 - Baltimore, MD at Floristree w/ Roomrunner, Hive Bent
https://www.facebook.com/events/331733526966161

01/06 - Richmond, VA at Strange Matter (EARLY SHOW 6 PM) w/ Sundials, Spit Take
https://www.facebook.com/events/179995282201062

01/07 - Chapel Hill, NC at Local 506 w/ Blanko Basnet
https://www.facebook.com/events/330446930431705

01/08 - Charleston, SC at Tin Roof w/ Southern Femisphere
https://www.facebook.com/events/245383542294148

01/09 - Jacksonville, FL at Jack Rabbit's w/ Memphibians, The Willow Wacks
https://www.facebook.com/events/507874155976907/

01/10 - Tampa, FL at Mojo w/ Y Los Dos Pistoles, Sweet Divorce
https://www.facebook.com/events/559997974083697

01/11 - Tallahassee, FL at Office Lounge w/ Ex-Breathers, Buffalo Buffalo, Remote Sensing
https://www.facebook.com/events/537201093036457

01/12 - Atlanta, GA at Capsule Gallery w/ Gold-Bears, Del Venicci
https://www.facebook.com/events/443627092405539

01/13 - Birmingham, AL at Seasick Records w/ In Snow
https://www.facebook.com/events/541673229259689/?source=1

01/14 - Nashville, TN at The Stone Fox w/ Gnarwhal

01/15 - Asheville, NC at Toy Boat w/ Old Flings, "that's a thing"
https://www.facebook.com/events/1405490489692106

01/16 - Charlottesville, VA at Tea Bazaar w/ Big Air, Lil Huffy

01/17 - Washington, DC at The Dougout w/ Two Inch Astronaut, Collapser
https://www.facebook.com/events/476677172452685

01/18 - New Brunswick, NJ at Cooler Ranch w/ Neur, Two Inch Astronaut
https://www.facebook.com/events/750868584926974/

01/19 - Holyoke, MA at Rowhaus
come say hi to us/feed us/tell us your sagas.
happy 2014, y'all--sadie here to give a quick livejournal recap on our last days of 2013 (and perhaps the last days of the speedy ortiz curse, which our regular livejournaler mike chronicled
@malfc
.......
More than any other time of year, December and January are typically associated with reflections of the previous 12 months. As Speedy Ortiz look back on our big year, we mostly notice a degree of fabulousness that was not quite as present 12 months ago. For example, Sadie and Darl have been boasting some tasteful iPod commercial dance moves...
Not to mention, exhibit B... unexpectedly provocative, yet powerful...
Does this signal a new era for the Speedy jerks??
Probably not, but our overstuffed calendars have this to say...
December
- We have a couple new promo vids ready to roll. Our video for "Fun" was recently completed by the great Joey Pizza Slice (a.k.a.
Son of Salami
), the man responsible for supplying space-time warping images to modern classics from the likes of Tracey Trance, Blanche Blanche Blanche and Happy Jawbone Family Band.
In the meantime, enjoy "No Below," which was just posted earlier today. Directed by Boast Choan (formerly known as Luz Cruz), it was shot in Derby, CT and features appearances from the members of Ovlov, Palehound and Very Fresh among many others.
MORE DECEMBER
- Back by popular demand, our first 2 tour mixes should be posted in time for Darl's birthday (Dec 25).
- We somehow got selected to nervously tag-along and open for a few of The Breeders'
Last Splash
shows, which is probably the single coolest thing that's happened to this band so far.
- On December 23 (if all goes well), Speedy Ortiz, Ovlov and Palehound will be hanging out and playing a few songs live on 91.7FM WXCI in Danbury, CT (which can be streamed at
WXCI.Org
). More info coming soon.
January
- For 2-and-a-half weeks, we'll be travelling to Florida and back with our snuggle buddies Grass Is Green.
- We're also playing two big shows with Los Campesinos!! (One of those exclamation points is actually in their band name, while the 2nd one is there to express "getting pumped." !!)
- And we'll be at this year's Berfest-Boston. !@#!
February
- A few new jams might be getting unleashed around this time. Stay tuned for breaking developments.
- We'll be flying to the UK and heading further into the Eastern Hemisphere for crazy shows with bands like Joanna Gruesome, Eagulls and Jealousy Mountain Duo!
March
- Not long after we return from Europe, we'll be touring with Pile and Big Ups on our way to Texas for SXSW, followed by more shows with Pile in mid-March. Only 1 date has been confirmed so far. Check below for more...
- We somehow got approved to awkwardly follow around Stephen Malkmus & The Jicks for their Spring 2014 dates, and oddly enough we also got the word that we're being allowed to open their shows. Check out this video for more info:
SHO'NUFF SHOWS
January: ALL ALL-AGES TOUR w/ Grass Is Green
01/03 - Danbury, CT at Heirloom Arts Theatre (with Grass Is Green, Fins and Vundabar)
01/04 - Philadelpha, PA at Golden Tea House (with Grass Is Green, Bleeding Rainbow, Ghost Light, Hundreds and Thousands)
01/05 - Baltimore, MD at Floristree (with Grass Is Green, Roomrunner and Hive Bent)
01/06 - Richmond, VA at Strange Matter (with Grass Is Green, Sundials and Spit Take)
01/07 - Chapel Hill, NC at Local 506 (with Grass Is Green and Blanko Basnet)
01/08 - Charleston, SC at Tin Roof (with Grass Is Green, Parasitic Male and Southern Femisphere)
01/09 - Jacksonville, FL at Jack Rabbits (with Grass Is Green and TBA)
01/10 - Tampa, FL at Mojo Books & Records (with Grass Is Green and TBA)
01/11 - Tallahassee, FL at Office Lounge (with Grass Is Green and Ex-Breathers)
01/12 - Atlanta, GA at WonderRoot (with Grass Is Green and Gold-Bears)
01/13 - Birmingham, AL at Seasick Records (with Grass Is Green and TBA)
01/14 - Nashville, TN at The Stone Fox (with Grass Is Green and Gnarwhal)
01/15 - Asheville, NC at Toy Boat (with Grass Is Green and That's A Thing)
01/16 - Charlottesville, VA at Tea Bar (with Grass Is Green and Sundials)
01/17 - Washington, DC at The Dougout (with Grass Is Green and Two Inch Astronaut)
01/18 - Princeton, NJ at Yellow Ranch (with Grass Is Green, Two Inch Astronaut and Neur)
01/19 - Holyoke, MA at Rowhaus (with Grass Is Green and TBA)
01/21 - Boston, MA at Paradise Rock Club (with Los Campesinos!)
01/22 - New York, NY at Irving Plaza (with Los Campesinos!)
02/13 - Birmingham, UK at Hare and Hounds (with Joanna Gruesome)
02/14 - Leeds, UK at Brudenell Social Club (with Joanna Gruesome)
02/15 - Glasgow, UK at Broadcast (with Joanna Gruesome)
02/16 - Manchester, UK at Deaf Institute (with Joanna Gruesome)
02/18 - London, UK at Birthdays, NME Awards show (with Empty Pools and Dig)
02/19 - London, UK SOLD OUT at Lexington, presented by ATP Festival (with Joanna Gruesome)
02/20 - Brighton, UK at Green Door Store (with Joanna Gruesome)
02/21 - Paris, FR at Fireworks Festival at Trabendo (with Yuck, Childhood, Thumpers, and more!)
02/22 - Lille, FR at La Peniche (with TBA)
02/24 - Antwerp, BE at Trix (with Eagulls and TBA)
02/25 - Amsterdam, NL at Paradiso (with Eagulls and TBA)
02/26 - Hamburg, DE at Turmzimmer in Uebel & Gefaehrlich (with Jealousy Mountain Duo and TBA)
02/27 - Copenhagen, DK at BETA (with TBA)
02/28 - Berlin, DE at Magnet Club (with Jealousy Mountain Duo and TBA)
03/01 - Vienna, AT at Flex (with TBA)
Mid-March - Lots of shows with Pile and Big Ups. SXSW shows. more info soon!!
(The only show announced so far is the Savannah Stopover Festival on March 7 in Savannah, GA.)
03/27 San Francisco, CA - Slim's (with Stephen Malkmus & The Jicks)
03/28 Los Angeles, CA - El Rey (with Stephen Malkmus & The Jicks)
03/29 San Diego, CA - Casbah (with Stephen Malkmus & The Jicks)
03/30 Pioneertown, CA - Pappy & Harriet's (with Stephen Malkmus & The Jicks)
04/01 Phoenix, AZ - Crescent Ballroom (with Stephen Malkmus & The Jicks)
04/03 Salt Lake City, UT - Urban Lounge (with Stephen Malkmus & The Jicks)
04/05 Missoula, MT - Top Hat (with Stephen Malkmus & The Jicks)
04/07 Calgary, Alberta - Republik (with Stephen Malkmus & The Jicks)
04/08 Edmonton, Alberta - Starlite Room (with Stephen Malkmus & The Jicks)
04/10 Vancouver, British Columbia - Rickshaw (with Stephen Malkmus & The Jicks)
04/11 Victoria, British Columbia - Lucky Bar (with Stephen Malkmus & The Jicks)
04/12 Seattle, WA - Neptune Theatre (with Stephen Malkmus & The Jicks)
Big update from
Current Mood:

john munch

Current Music:

surface to air missive
Animal Style
tells the story of caged animals who want to break away from their confines.
1. The Problem Solverz "Doghouse"
(We labelled this song as "Doghouse," but we're pretty sure this isn't the actual title.)
Our protagonist puppy wonders about his lack of freedom and decides to give himself a walk.
2. Sam Gas Can "Life of a Dog"
The wandering puppy meets some of his confined friends. He says hi and explains his dilemma.
3. Sparklehorse "Pig"
Upon realizing they've had enough, all hell suddenly breaks loose. Hog wild. They run amok while racing to a secluded party zone faster than anyone can catch them.
4. Deerhoof "Kids Are So Small"
Imagine entering the party zone from the animals' perspectives, which is nothing like our own human viewpoint. Very fucked up and strange.
5. Wire "I Am The Fly"
The Fly helps spread word about the big party. All types of animals big and small hear all about this great news and make a break for it. Like Noah's arc, there are at least 2 of every animal present.
6. Krill "Piranha Girl"
Water animals hear of the news as well. The piranhas on the Cape at Beachcomber were able to hear Krill's "Lucky Leaves" performance and understood the seeping infectious nature of their song. They decode it as a warning message against the impending Bird Seeds of Vengeance, and so they transmit their message through piranha radar to the animal party.
7. Hatebeak "Bird Bites Dog Cries"
Unfortunately, the message is received too late. The evil Hatebeak has arrived, who has also recently escaped and doesn't want the puppies to have any fun at all. Several outraged puppies bark in defense, but Hatebeak makes one of the dogs cry by biting him.
8. Dr. Octagon "halfsharkalligatorhalfman"
Mr. Gerbik, half-shark/half-man, skin like alligator, carrying a dead walrus, busts down the door and says, "hey Hatebeak. Take a hike." At this point, Hatebeak quietly departs. The puppies cheer, and the party resumes.
9. Syd Barrett "Octopus"
The octopi get their own dance sequence.
10. The Shaggs "My Pal Foot Foot"
Foot Foot and the kitties arrive just in time to celebrate. This is their crazy party too.
11. Chris Weisman "Elephant In The Room"
Smiley the Elephant was the bartender for this event. He's so happy about the party that he makes his loud elephant jungle noise, which inadvertently alerts the humans as to the general direction of their secluded party.
12. Potty Mouth "Dog Song"
Things are starting to wind down. Many of the animals are passed out and drunk, but others want to keep the party going. Our protagonist puppy had a great time. He's ready to start heading home, but he can't get everyone to wake up.
13. Porches. "Fog Dog"
The party comes to an immediate screeching halt when all the animals' owners discover their whereabouts and arrive to collect their drunken pets.
14. Guided By Voices "Chicken Blows"
The chickens who were too stupid to desire freedom welcomed the animals back home. The puppies and all the other animals are sad that their party has come to an end.
15. Ween "Fluffy"
Exhausted and satisfied, our protagonist puppy rests with his human friends on the porch.
We put together this mixtape back in August while we were on tour. It's dedicated to all animals, small or large, real or fictional, mammalian or reptilian, high or sober.
Current Mood:

vance

Current Music:

ram on
August 4 (New Orleans, LA)
We pulled up to our first ever show in New Orleans, and the first thing we saw was the cover of one of our mixtapes drawn next to the door with chalk. (Original artwork courtesy of Darl Ferm.) Opposable Thumbs tore it up. We mostly listened to Hot Boyz (Juvenile, Baby Birdman, Lil Wayne, etc) while driving around, to get into the spirit of New Orleans, and we somehow evaded crocodiles.
August 5 (Baton Rouge, LA)
Special thanks to the drummer from Dov Charney who just happened to be the nicest most generous guy ever and handed me one of his spare ride cymbals to keep. [Drummers Guild United.]
After the show... One quick piss stop in Mississippi at 2AM is one too many. We were pulled off the highway only 30 seconds before the scariest truck with the meanest looking trucker dudes spotted us with our Massachusetts plates and pulled up right next to us. I immediately yelled something along the lines of "OHMYGOD GET IN THE FUCKING CAR," and they watched us speed away about 10 seconds later. We had to do the thing where you force yourself to squeeze-in mid-piss for about 10 minutes before ultimately releasing at a safer Alabama rest stop.
August 6 (Atlanta, GA)
We saw a few dudes who might have been Pill, who turned out to not be Pill, even though we were told 529 was one of his local hangouts. (A few fans were surprised we had heard of him. Everyone loves Pill.)
PUP OF THE DAY
August 7 (Athens, GA)
I'm pretty sure the high school band was named Monsoon. Amazing show from start to finish, especially our Nashville buds Narwhal who were added onto the bill at the last minute.
August 8 (Charlotte, NC)
Bo knows bass. (He's def heard that joke before.) Bo White Y Su Orquestra know how to get dat funk out.
August 9 (Durham, NC)
Big party for Blanko Basnet's new record...
Darl was depicted in a recent band profile as a
"Polvo-worshipping bassist"
(which is only partially true, but not necessarily untrue). During Organos set, a gentleman named John Kurtz approached Darl who said he just happened to know the bass player from Polvo. According to this guy, they had played basketball together for years, but he had never even heard of Polvo until only a few weeks ago. When Darl responded, "that's amazing! Well, I'd love to meet him sometime," the gentleman nodded enthusiastically and said "OH YOU'RE GONNA MEET HIM ALRIGHT. TONIGHT!" And so that's how we all got to drink beer with Steve from Polvo.
August 10 (Richmond, VA)
We love Strange Matter. Sandwiches and Sundials. Matt turned a whole year older halfway through our set. Afterwards, we went to Sundials' house and watched
Can't Hardly Wait
starring Jennifer Love Hewitt and Seth Green. I hadn't seen it since 1999, and it was way worse this time around.
August 11 (Washington, DC)
At long last, we were once again reunited with our old friends Two Inch Astronaut and Soccer Team, two of our favorite BFF bands of all time. The buzz floating around the venue mentioned that Chris Richards from Q And Not U was in attendance, as well as the one and only Thor Slaughter (who helped Matt celebrate his birthday by having him ride on his back during "Mark VI" like a wild rodeo bull).
Although the obvious highlight of the night for all of us in Speedy was our brief exchange of words with none other than Mary Timony. (No, really. This actually happened. Not kidding. We are somehow on Mary Timony's radar.) Sadie got to talk with Mary the most, but I briefly got in a few sentences as we showered her with a multitude of free Speedy Ortiz merchandise. She liked the concept behind our tour-mix CDRs and said "That's a good idea!" When Matt gave her our cassette, she said she didn't have a tape player, and Matt responded, "You should get one!" Mary, we love you. Please be our best friend.
The next day Thor and Lars took us on a dope tour of the new NPR building.
PUP OF THE DAY
August 12 (Baltimore, MD)
Both Hive Bent and Roomrunner were in TOP fucking form, and played the best sets I've personally ever seen from either band. This was also our first of two nights with Bleeding Rainbow who tore that shit up. Solid show from beginning to end. On this night, I was the only member of Speedy who didn't wear a baseball hat. Afterwards, we watched
The Simpsons
at Dan Frome's pad.
August 13 (Philadelphia, PA)
We did a radio session at a recording studio that had lots of familiar-looking gold and platinum records on the walls. We thought they were just there for decoration, but in fact it actually was the same studio that had once recorded songs with Dru Hill, Usher, Justin Timberlake, Robyn, Christina Aguilera, Kelly Clarkson, and many others that we can't recall at the moment.
Bleeding Rainbow was even better at this night's house show than in Baltimore. It's entirely possible that they kill harder at house venues. After this, we drank beer at Sex Dungeon with Dan and James (the dudes who recorded
Sports EP
for us once upon a time) who shows us their collection of 80s metal trading cards.
August 14 (NYC, NY)
We Explored The Hole With Speedy Ortiz
. It was described to us as a weird haunted mafia dumping ground in Brooklyn. The
Voice
writer ended up losing her iPhone in a pit of brush and getting badly eaten by mosquitoes. I helped her search for her phone for about 15 minutes but did not receive credit for my assistance in the article. Oh well...
Later that night, we played 5 songs for Serious Business including a better-than-usual performance of "Casper."
August 15 (Hadley, MA)
Properly ending our summer adventures by tackling our vow to play four more Western Mass shows by the end of 2013. For the first of these four shows, we shared a line-up with Harmoos, Egg Eggs, Zebu and Fake. Justin Pizzoferrato was around. "The place to be."
August 16 (Bed)
We all went to bed. Separately. In our own rooms. Forever.
July 18 (Denver, CO)
This video interview dude asked us to throw together some band/food puns on the spot and I thought of "Bread Zeppelin" and "Chimichanga Hendrix" which Darl thought was funny. The video has yet to surface, but maybe someday it will happen. After this, we played at Hi-Dive for the UMS festival which was broadcast live on the radio, but we said "fuck" anyway.
Second Story Garage
posted a clip from the set.
July 18-19 (Laramie, WY)
July 19 (SLC, UT)
Cool outdoor show at Diabolical Records very close to Kilby Court, where we played last year. Utah friends came out to say hi. Justin Strange set us up with a spot spending the night at an apartment owned by a famous person where he was housesitting. (We've been sworn to secrecy about this famous person's identity because apparently she'll get mad pissed at Justin for letting us stay there. We promise we didn't touch anything!)
SLC ON VINE:
https://vine.co/v/hmQbpxOjzjE
PUP OF THE DAY: Caged bro-dog just hangin out.
CHECK THIS SHIT OUT:
http://www.utahhumane.org/
July 20 (Boise, ID)
Internet celeb Jay Wright followed us from Salt Lake City up to Boise for our first show in Idaho. None other than Doug Martsch himself was spotted in the audience by no less than 3 people (including Sadie who saw him rocking out in the 2nd row, even though I never saw him there). His beard has grown huge (apparently).
PUPS OF THE DAY: Forgot their names. Whoops.
July 21 (Portland, OR)
All 4 of us got wasted as fuck and played probably the worst live set in the brief history of Speedy Ortiz. Somehow no one noticed. Hung out at the sauna afterwards LOL.
July 22 (Olympia, WA)
We were taken to an alley with meth-head kids sleeping in the gutters n stuff. At the very end of the alley rests
a fresh water well endlessly flowing with some of the best water we've ever tasted
. I got karaoke punk'd by our pal Melissa. K Records was nice enough to add
Major Arcana
to their distro. We ate some a-okay spicy fries, and Chung Antique's set majorly owned us.
July 23 (Seattle, WA)
Crashed at Chung Antique's pad. Drank very good coffee. Played 4 songs on KEXP and once again got asked if there's differences between writing poetry and writing music. (The answer is "yes.") Darl saw a bouncer get into a fight with someone, and this dude on bath salts was wandering the streets and scared the fuck out of us.
July 25 (San Francisco, CA)
Matt spent the night at his grandma's while the rest of us succumbed to Facebook hype and finally watched
Sharknado
which is approximately a 1 out of 10 in case anyone was wondering. Later on, we played at Bottom Of The Hill with Wild Moth and Shinobu... One of the best shows of tour so far! (They had really good nachos.)
July 26-27 (Los Angeles, CA)
LA Dodgers fanatic Jeff Bailey was able to correctly ID the cover of
Sports EP
as (you guessed it) Dodgers Stadium. Jeff took me out on a boat ride. We rode down the bay to pick up Sadie from the house where she was staying, and we saw mad seals (which Matt thinks might have been sea lions). Darl confronted his fear of heights at Origami Records, where we played atop an elevated 15-foot wall. We spent the night at Mark Bowen's place, who has an outstanding collection of kitschy cultural artifacts.
PUP OF THE DAY: White pup!
July 28 (San Diego, CA)
Best burrito ever??
Cults
member Nathan Aguilar has the most popular parents in the San Diego rock scene, and they were nice enough to let us crash at their pad. They have a bitchy cat named Handsome and a dog named Bella. Bella would've been pup of the day but pics got deleted.
July 29 (Phoenix, AZ)
We've been noticing some serious burrito pride between San Diego and Phoenix. We grabbed a few badass Royal Palmers (a mixture of iced tea, lemonade and grenadine) from the same spot we stayed at last summer.
July 30 (Santa Fe, NM)
We stopped over for a quick live video session with Luke Carr from
Pitch & Bark
. We got videotaped playing "Gary" 5 or 6 times and then headed out for
vegan crunchwraps
.
July 31 (Oklahoma City, OK)
One of the best shows of tour so far. Sonic Violence and Antipatterns killed it. Someone set up a light show with lasers for all of the bands.
PUPS OF THE DAY: Actual 4-week old puppies.
August 1 (Denton, TX)
Matt found a Mayor McCheese statue at a record store and took a selfie. We're starting to get into the self-titled Ciara LP.
August 2 (Austin, TX)
We played an instore at the fantastic End Of An Ear records (where we heard
Mercyful Fate's Curse of the Pharaohs
in its entirety). Sadie hit up all the big spots that she visited on our last Austin visit, one of the most notable being
Maria's Taco Express
. Whether or not Maria is insane has yet to be determined, but she does an excellent job of preparing burritos with only hints of extreme spiciness, just enough to get the endorphins flowing while retaining all the flavor one should expect from only the finest Mexican cuisine. Our frans in Ringo Deathstarr just keep getting better every time we see them play, not to mention they're some of the coolest people in Austin.
Like everyone else we know, we're desperately trying to get the attention of Lil B "The Based God," and if we were in Austin just 1 day later we could've had our big chance...
August 3 (Houston, TX)
A few weeks ago we answered questions over the phone for an outspoken gentleman named Kwame who wrote
this article
a few days ago. We finally got to meet him on this night, and he sang all of "Bound 2" by Kanye West for Darl.
We're still on the road, which can only mean MORE STUFF COMING SOON.
Current Mood:

satanic

Current Music:

stankonia