Bears
that premiered on Earth Day 2014. However, New Preston was the spot where we first heard the demo for what is now our new song, "Raising the Skate," which premiered on The Fader yesterday.
Just wanna shout a "hell yeah" to whoever decided to name the URL
I'm Not Bossy, I'm the Boss
. If you'd like to learn more on this topic, why not try your local library? Or check out these informative suggestions:
So today we're taking a quick break from our 2014 Tour Scrapbook to let you know how pumped we are that "Raising the Skate" is finally out there. We messed around with it a few times on our August tour, right after we premiered a very sloppy and way-too-fast version at Golden Tea House in Philadelphia (at a show we'll probably be writing about on the next page of tour journal.)
And speaking of tour, a new round of shows just got announced. This is the longest we've gone without travelling for a while. We're looking forward to burrito hunting with our buds from Krill, Mitski, Alex G, Two Inch Astronaut, Broken Water and Palehound, with more bands to be announced soon!
04/22/2015 Cambridge, MA / The Sinclair with Mitski, KRILL
04/24/2015 Hamden, CT / The Space with Mitski, KRILL
04/25/2015 New York, NY / Bowery Ballroom with Mitski, KRILL
04/26/2015 Philadelphia, PA / Johnny Brenda's with Mitski, KRILL
04/28/2015 Pittsburgh, PA / Cattivo with KRILL, Two Inch Astronaut
04/29/2015 Cleveland Heights, OH / Grog Shop with KRILL, Two Inch Astronaut
04/30/2015 Chicago, IL / The Empty Bottle with KRILL, Two Inch Astronaut
05/01/2015 Madison, WI / The Frequency with KRILL, Two Inch Astronaut
05/02/2015 Minneapolis, MN / 7th St. Entry with KRILL, Two Inch Astronaut
05/03/2015 Iowa City, IA / Gabe's Oasis with KRILL, Two Inch Astronaut
05/04/2015 Champaign, IL / Highdive with KRILL, Two Inch Astronaut
05/06/2015 Washington, DC / Black Cat with KRILL, Two Inch Astronaut
05/07/2015 Richmond, VA / Strange Matter with KRILL
05/08/2015 Carrboro, NC / Cat's Cradle - Back Room with KRILL
05/09/2015 Atlanta, GA / Shaky Knees Festival
05/11/2015 Tampa, FL / The Crowbar with KRILL
05/13/2015 New Orleans, LA / Gasa Gasa with KRILL
05/14/2015 Houston, TX / Walter's Downtown with Alex G
05/15/2015 Austin, TX / Red 7 with Alex G
05/16/2015 Dallas, TX / Club Dada with Alex G
05/21/2015 Los Angeles, CA / The Echo with Alex G, DJ
05/22/2015 Santa Ana, CA / Constellation Room with Alex G
05/23/2015 Santa Cruz, CA / The Catalyst Atrium with Alex G
05/25/2015 Portland, OR / Mississippi Studios with Alex G, Broken Water
05/26/2015 Vancouver, BC / The Cobalt with Alex G
05/27/2015 Seattle, WA / Barboza with Alex G
05/29/2015 Salt Lake City, UT / Kilby Court with Alex G, Palehound
05/30/2015 Denver, CO / Larimer Lounge with Alex G, Palehound
05/31/2015 Kansas City, MO / The Riot Room with Alex G, Palehound
06/01/2015 Columbia, MO / Rose Music Hall with Alex G, Palehound
06/02/2015 St. Louis, MO / Firebird with Alex G, Palehound
06/04/2015 Detroit, MI / UFO Factory with Alex G, Palehound
06/05/2015 Toronto, ON / The Legendary Horseshoe Tavern with Alex G, Palehound
06/06/2015 Montréal, QC / Bar Le "Ritz" P.D.B. with Alex G, Palehound
New Preston, CT. It's one of those towns with lots of trees. Some say it's where the bears hang out, although it was not the location for the Disney IMAX film
Current Mood:

googly eyes

Current Music:

brainiac
6/12/14 Chapel Hill, NC (Local 506)
Mac from Superchunk keeps pictures of Codeine in his wallet.
6/13/14 Manchester, TN (Bonnaroo)
Hey, check it out. I thought of a cool joke. "Boner-Roo." Get it? Like, "Boner-Roo." We got to play on a smaller stage right before Diarrhea Planet went on, so in a weird way it felt like we were on an out-of-place DIY stage that was kinda stuck in the center of everything. Also if I'm not mistaken, we were Kanye's only competition, with our set starting about 15 minutes after his. Lionel Richie was tight as hell and at least one member of Speedy relieved themselves on the ground during his stage banter jokes. Lauryn Hill was awesome but she also made me sad. Ice Cube did "You Can Do It (Put Your Back Into It)." Frank Ocean was reportedly drunk. The surprise mini-set from Mystikal was pretty dope. We went to Chappy's house and watched Britney Spears and Incubus videos for a couple hours.
6/15/14 Louisville, KY (Dreamland)
Chris Brokaw was dope as hell. Went to some bar and the World Cup was on all the TVs. We saw Nick Cave the following night and he did that thing where he points.
6/17/14 Columbus, OH (Rumba Cafe)
Craft Spells!
6/18/14 Detroit (Jumbos)
I tried to find every song on the bar's jukebox that was longer than 10 minutes. Detroit's got some characters. We met a trash guy (a sanitation engineer) who's been coming to all our Detroit shows. Destroy This Place made good on their band name. (I wonder how many times people have said that about them.)
6/19/14 Toronto, ON (Mod Club)
Varriale and Steve were at this one. Pissed Jeans played the bass for a long time. Michael Deforge said that Sadie is a polite puker.
Check out our hot butt pics from NXNE.
6/20/14 Toronto, ON (Horseshoe Tavern)
Trying to find the video of those two guys who interviewed us who were like the Toronto-version of Wayne & Garth. That night we did our first of 3 shows with Swearin', along with Greys, Perfect Pussy, and *SPACIAL GHEST* who turned out to be Spoon, so that was cool except for afterwards when the NXNE volunteers locked the room that our shit was in because they're like "no ya can't load out til the Spoon bus is gone lol" which took until like fucking 4AM. Good show tho.
6/21/14 Hamilton, ON (Casbah)
We watched
Christmas Evil
with the Sensei gang. They were amazed that Darl's friend's dad (or someone) played "Man #2." I think he has one line. Okay,
I just found it on Youtube
. It's something like, "why Santa, I see you've given up your reindeer for more modern wheels. Bwahahahah." And then Santa stabs him or something. The video posted below explains why the character Moss Garcia was such a bad kid and why he deserved what he got.
6/22/14 Ottawa, ON (Luneta)
Sick warehouse strip-mall show with Swearin'! Sadie projectile vomited. :(
6/23/14 Montreal, QUE (La Vitrola)
I wish I had a picture of while Swearin' was playing and Devin's head was poking out behind the curtain. This girl who worked at a bar confirmed that they refer to "chips and salsa" as "nachos" which felt gratifying for me.
And that was pretty much it. Summer shows are next...
Like 3 days after we got back from "Sugar We're Going Tour Summer 2014" we had to rent another van and do more shit.
5/16/14 Copenhagen
Festival with EMA. Visited Christiania. A dude yelled at me for sitting against a wall and eating a taco.
5/19/14 Liverpool (The Shipping News)
Darl says, "I remember it was a Monday and people were fucking wasted." We had to school the Liverpudlians on Hans Moleman.
5/20/14 Dublin, IRE (Workman's Club)
Squarehead!
5/21/14 Bristol (Exchange)
There's a dude who we started calling "Armband Guy" who we've seen at 3 or 4 shows. He's a big guy, really friendly, with a very heavy Bristol accent and about 100 armbands from previous festivals still attached to one of his wrists. He's more commonly known as "Big Jeff," or "Bristol Jeff," and he has some kind of sensory processing condition where he sees crazy colors and shapes whenever he goes to see bands play. David Catmur (our European TM) refers to him as "a legend." I guess he's legendary enough that the top result when Googling "Bristol Jeff" is this documentary short:
Also thanks for the awesome skate-wheel poster!
Check out more of their stuff here!
5/22/14 London (Electrowerkz)
Darl put a credential sticker on his ass and the bouncer got pissed. He thought there were gay implications and said, "I don't wanna look at that." Mark Bowen showed off his bling rings.
5/24/14 Utrecht (Ekko)
Played with Big Ups at some weird space that looked like a mall but actually might have been an art gallery or something? Yeah anyway, we ended up in their video, and I'm pretty sure they're in ours. Later in the day, I finished reading the 33 1/3 book about Celine Dion, and we played with some band where these dudes wore leather jackets and played yacht rock. The main leather dude started soulfully crooning "Hakuna Matata," which is a very good song to croon when you want everyone in the room to feel extremely awkward all at once.
5/25/14
No show. Our van got searched for drugs at a German rest-stop by the German drug-cop dudes. Sorry cops! No drugs here! Also German Sailor Moon:
5/27/14 Zurich (Elmo Delmo)
God, this spot was amazing. Big show with
J & L Defer
, also known as one-half of Disco Doom! David Catmur rocked out on the bass during soundcheck.
5/29/14 France (This is Not a Love Song)
Mark E Smith!
5/30/14 - 6/1/14 Barcelona (Primavera)
Sadie hugged Earl Sweatshirt. We saw Slint. While Deafheaven were gone from their dressing room, we stuck presents on the walls. Sadie left them a Princess-puppy and I left them a BMO. This dude made sand castles of Bart pissing and Homer drunk. (See video below.)
6/2/14
No show. Went to The Alps and stayed at Dave's mom's.
6/3/14 Marina di Ravenna, Italy (Beaches Brew)
We kept seeing Lee Ranaldo everywhere. Also, we're still trying to figure out what was up with this scary little "Michael Jackson banana" carnival item being sold at a rest stop. I kinda hugely regret not buying this. (See video below.)
6/4/14 Rome (Circolo degli Artisti)
As an experiment, I said "Como se va?" with some attitude during the stage banter, and everyone in the audience yelled back, "EYYY!! COMO SE VA!!"
6/5/14 Torino (Spazio 211)
Kinda sick of squat toilets. I got bored and made a video montage. (See video below.)
So Darl says, "Italy's such a weird place. It kinda feels like 'The South' of Europe. Like, their version of The South." Then I says to Darl I says, "Like, the Alabama of Europe?" And then he says, "Yeah, Italy kicks ass." And so then I says, "Or maybe the Louisiana of Europe because they both have the boot shape." (There's no punchline. I'm just relaying our conversation.)
6/6/14 Porto (Primavera)
After our set, we kinda jumped off our stage and ran directly towards the other stage where Slint was playing so we could see them again. People talk a lot more in Porto, as opposed to the dead silence during "Good Morning Captain" in Barcelona. We had a video interview in our trailer where we ended up singing all the lyrics to "Come On A Cone."
A few hours later we were on a plane heading back to the States.......
Hey, it's Mike again. For those just tuning in, we're mid-way weasling through the scrap book of memories that we didn't get to post during 2014. We're not caught up just yet, so this is probably an inappropriate video to post:
4/14/14 Fargo, ND (The Aquarium)
I pretty much just remember that it was really cold, and the TV show hadn't come out yet. (Google reveals it actually premiered the following day.)
4/15/14 Minneapolis, MN (7th Street Entry)
Back to the Purp (le rain). Our good buddies in the band Buildings are really good at enabling alcohol consumption. Is it ok to say that on here? Riff Raff was playing in the
Purple Rain
room (the one next door where we played with Breeders last year).
4/16/14 Chicago, IL (Empty Bottle)
My phone says I Shazam'd "2 On" on this day.
4/17/14 Pittsburgh, PA (Smiling Moose)
Darl overheard two people awkwardly boning at 4AM.
4/19/14 Bennington, VT (Bennington College)
Big college show with Ovlov. When we showed up we saw Raya wearing computer speakers around his head blasting Ovlov.
4:20 - end of tour. Blessed day. Best day.
Just kidding, tour kinda never ended. But at least we were home and sleeping in our own beds n stuff.
4/26/14 Suny Purchase Cultureshock (The Stood)
We are trying to locate The BasedGod. Where is The BasedGod? We spent a lot of time looking for Lil B, but he was stowed away somewhere. The crowd exploded during Guerilla Toss, both physically and chemically. Darl got to rekindle his friendship with Lightning Bolt. (I think this happened. He did sound for them at Wesleyan a few years ago.)
A few minutes before Lil B came out, I got bored and started packing up my drums by the side of the stage. Then without any warning, the house lights went dark and a huge spotlight started shining immediately to my left. The drunk college crowd lost their shit and about 50 cell phones were pointed in my direction. Apparently, I'm awkwardly looking around on about 50 people's instagrams who were trying to capture Lil B's entrance. To be honest, I don't think any of us recognized any of the songs he played, but whatever. He kept that shit #rare and #based.
4/26/14 Amherst, MA (Amherst College)
World's Fair! Love these dudes. Would watch again.
4/29/14 - 4/30/14 Brooklyn, NY (Rare Book Room)
Recording "Bigger Party" and "Doomsday."
5/1/14 Peterborough, NH (Toadstool Bookshop)
Book store show with Death to Tyrants. A lot of cool little kids handed us posters to sign as if we were actual celebrities with valuable signatures or something. It was def sweet.
5/2/14 Annandale-on-Hudson, NY (Bard College Spring Fling)
Deerhoof and Celestial Shore! Greg from Deerhoof was covered in college babes all night. That's right awn. And we met up with Lily from Palberta who we hadn't seen since that time when a couple of her old bands played with us back in December 2011 (our 4th show ever).
5/3/14 Boston, MA (MIT Steer Roast)
Too much fun with Potty Mouth. For a drunk spontaneous encore, we debuted the song "The Graduates," which at the time was called "Dropout." Darl and Matt peaced, and I just made up a drum part on the spot. Pro-tip: Drunk college kids really will applaud for anything - even the ones who figured out The Theorem of Life two hours earlier.
5/4/14 Winooski, VT (Monkey House)
Fat Creeps (the band).
5/7/14 Manhattan, NY (Sirius XM)
Interview/session. I said something corny before one of the songs (something about "Sadie Doop-a-doop") and they left it in the broadcast. Thanks a lot, guys. Howard Stern was nowhere to be found, nor was Beetlejuice. Also, this was Devin McKnight's big Speedy debut.
This is probably a good spot to turn to a new chapter. Spring Europe tour is next.
Current Location:

throw some mo

Current Mood:

throw some mo

Current Music:

throw some mo
The Jicks are Jake, Mike, Steve & Joanna. We somehow got lucky enough to play 13 shows with these crazy guys between late-March and mid-April 2014.
When it comes to choosing amazing cover songs, few bands own as hard as The Jicks. Sometimes the covers arrive during soundchecks, and sometimes as surprise bonuses during the set (often during encores). Sometimes they're Pavement covers (which is always nice), but usually they're '60s and '70s AM Gold hits. Accordingly, we've included a "Jicks covers" section where we'll try our best to remember all the random shit they pulled out of nowhere.
3/27/14 San Francisco, CA (Slims)
Jicks covers: "Fly By Night" (soundcheck), "Outdoor Miner" (soundcheck)
We overheard someone in The Jicks' backstage room singing "Ex-French Tee Shirt." Eventually, Darl hit it off with Steve thanks to the magic of smoke breaks. BFFL.
3/28/14 Los Angeles, CA 90048 (El Rey)
Jicks covers: "Smells like Teen Spirit" (soundcheck), "Stereo" featuring Spiral Stairs (whoa,
headline
)
The Jicks and Speedy both got interviewed separately for a video series, and the guy holding the camera turned out to be the touring keyboardist for Marilyn Manson. For whatever reason
they didn't include the part in the video
where the girl asks "what bands would you like to tour with?" and we all chanted "Marrrilyyyn Maaansssson" really slowly and loudly with big, dumb smiles on our faces.
3/29/14 San Diego, CA (Casbah)
Jicks covers: "Eminence Front," "Brandy (You're a Fine Girl)."
Malkmus and Sadie both caught some shitty pneumonia around the same time. The story goes, he tried to buy antibiotics off her, and she was like "hell naw," so he just ended up using her inhaler. This was the night when Jicks' merch seller (a.k.a. Rebecca from
Wild Flag
) informed us of the secret insider news that Sleater-Kinney's next album was all finished and ready to roll. Of course, this album has since been released, so the news isn't nearly as interesting as it was months prior. But at the time, we were all gasping and shouting expletives such as "hell," "damn" and "gasp."
3/30/14 Pioneertown, CA (Pappy & Harriets)
Jicks covers: "Outdoor Miner"
Stuff: Pappy & Harriets. An old west family restaurant & bar in the middle of the desert (literally surrounded by sand) where they'll get bands like Spiritualized, Camper Van Beethoven, TV On The Radio and Sleep to play shows. Ice Cube shot a video there, and I forget what other famous peeps were on their wall of fame. There was a dirty little pig hangin' out, and I think she got pissed when we tried to pet her through the fence.
3/31/14 Los Angeles, CA
No show. Back to LA for video stuff. We shot our bit for the
"American Horror" video
.
4/1/14 Phoenix, AZ (Crescent Ballroom)
Jicks covers: "Never My Love" (soundcheck), They possibly did "Stereo" again. I recall some dude towards the front losing his shit over a Pavement cover.
Stuff: Joanna's big birthday celebration. Sadie presented her with a cake on stage.
4/2/14 Las Vegas, NV (Beauty Bar)
Jicks covers: "Box Elder" (coming out of "Do Not Feed the Oyster")
Stuff: In "New Vegas," I got an absurdly large sugary alcoholic fountain icey drink in a plastic bong for $12. Darl did not gamble. In "Old Vegas," we saw this praying mantis thing that shot fire out of his antennas. (See video below.)
4/3/14 Salt Lake City, UT (Urban Lounge)
Jicks covers: "Fly By Night"
Stuff: This was the night when we figured out that The Pie Hole has better pizza than The Pie.
PUP OF THE DAY
4/5/14 Missoula, MT (Top Hat)
Jicks covers: "Touch of Grey" (soundcheck), "Fly By Night," "Age of Consent," "Sister Ray"
4/6/14 somewhere in Montana
It's my birthday. Buh b-b-b- birthday.
Went bowling with The Jicks. I got "most improved" because they thought I was serious when I started out doing the thing where I throw the ball really high up in the air and it thuds onto the alley.
4/7/14 Calgary, Alberta (Republik)
Jicks covers: "Summer Babe," Medley: "25 or 6 to 4," "Brain Stew," "Sweet Child O' Mine"
Stuff: The border patrol guy made fun of our passport pictures and was like "you must be with those guys who came through here earlier," referring to The Jicks. Pretty sure there was a nearby RV engulfed in flames while all this was happening. Pro-tip: Try to find this entrance to Canada.
14 VHS copies of
Jerry MacGuire
.
4/8/14 Edmonton, Alberta (Starlight Room)
Jicks covers: "Harness Your Hopes," "Range Life"
This was probably around the time when Mike Clark started joining us on stage for the cowbell part on "Taylor Swift," which ended up becoming a nightly ritual. Darl has a good picture of a dude falling asleep at this show.
4/10/14 Vancouver, BC (Rickshaw Theater)
Witnessed legit crack deals in the alley behind the venue.
4/11/14 Victoria, BC (Lucky Bar)
Jicks covers: 15-minute version of "Victoria" by The Kinks (soundcheck)
4/12/14 Seattle, WA (Neptune Theatre)
Jicks covers: "In the Mouth a Desert"
So yeah, we crashed the stage. As far as I can recall, the story goes like this:
Throughout the tour, Malkmus tried to hide it from Sadie that he secretly knew about her old cover band Babement. They were a Pavement cover band with 5 megababes who played 2-3 times back in like 2010/2011-ish. So not long before the show starts, he asks Sadie, "Any interest in a Babement reunion tonight?" which was his way of asking, "Do you wanna sing on 'In the Mouth a Desert?'" Darl was around and casually mentioned that he used to sing the "It's what I want" part when they covered that song in his old band Daysleeper. And Malkmus was like, "cool, you're in." So of course, when I heard about all of this insanity, I tried my best to sneak in with some "hey guys, am I cool too?" shtick. And so Steve said I could do the ooo-ooo part because he heard me sing harmonies on a few Speedy songs (and possibly because I was wearing a
Gummo
shirt that day). And of course we had to have Matt there, because we couldn't do it without all of us. So Matt joined me on the ooo-ooo thing.
Being on their stage was as surreal as it sounds. Like a very weird dream. But it was also really fun. After the song was finished, we huddled off-stage while someone from the audience yelled "FUCK YOU STEVE." I guess he was bummed that the only Pavement cover of the night was sung by the loser squad. Tough break, guy.
Current Mood:

puppies

Current Music:

coffee
When you tour all year and take online classes at the same time, it gets tough to keep up a band journal. A few interview people asked us "hey guys, what goin' on with the livejournal?" The LJ never went away. We just got busy. While we were touring with Ex Hex, I took an online class on library management, and in one part they explained the difference between "important priorities" and "urgent priorities." Sometimes priorities are both. Sometimes they're neither. In this case, livejournal was considered important but not urgent, because we can always get around to posting this stuff later. And later is now. It's time.
Plus, I was promised nachos if we had an update tonight. So let's get back up to speed here. (Pun intended.)
#1 We're gonna continue doing the tour scrapbook stuff (starting from where we left off last March) even though the events happened a while ago. We've been keeping pictures and memories prepared for when the updates start up again, and it would suck for it to go to waste.
#2 We'll also be using this to go into greater detail about what we're planning for the next few months. While our Facebook is probably a better resource for that, we can get into full on TLDR mode on the livejournal. Nothin's holdin' us back.
Hey, this is Mike.
Current Mood:

sremmlife

Current Music:

sremmlife
This marks the beginning of the "No Sleep Til 4:20" tour because we just kept doing it forever until 4/20.
March 6: Washington, DC
@killquilty from last night pic.twitter.com/PGPT9JmqvG

— Andrew Markowitz (@amphotography21) March 7, 2014
March 7: Savannah, GA
Savannah Stopover. Still exhausted from Europe jetlag.
Thats because i am... RT @killquilty: i consider @Pill4180 my friend

— Pill (@Pill4180) March 7, 2014
March 8: New Orleans, LA
We got called divas because the show had to get moved to a different location where we played at 3:30AM due to acute sensitivity to cigarette smoke resulting in 3+ weeks of sinus and respiratory issues, but not until after we found Po'Boys and ghosts. (I guess the picture below was taken at the house where Kathy Bates' character lives on
American Horror Story
or something, which I guess is Speedy-related at this point.)
March 9: Corpus Christi, TX
"There were cool tacos." - Matt Robidoux
They projected the movie
Breaking Away
while Speedy, Pile and Big Ups were playing.
March 10: McAllen, TX
March 11 THRU March 15: SXSW, Austin, TX
"Exhausting and educational." That's my official statement on SXSW. I had to drive myself to the emergency room on the night of Wednesday, March 12 due to a dislocated jaw resulting in having to cancel our first of 2 Exploding in Sound showcases, which would have been our third show that day.
Here's some pics of Ex Hex.
Whoa, no way. Here's DJ Rashad.
Whoa, no wai, here's dat Gary Numan.
We also saw the
Veronica Mars
movie and
Grand Budapest
with Pile at the Alamo Drafthouse, where we tried to recreate the
Moonrise Kingdom
picture from 2012 summer tour:
March 16: Fort Worth, TX
March 17: Little Rock, AR
Last show with Big Ups. :(
Kris Kuss from Pile found some sweet Texas growlers. Also there's a PUP OF THE DAY pic in here somewhere...
March 18: Norman, OK
This was the one where the sound guy was dat huge dick.
March 19: Kansas City, MO
I think this was the one where Raya.
March 20: Iowa City, IA
No memory of this.
March 21: Omaha, NE
Ye. Art gallery. Party drugs. The weird coke had oatmeal stout or something. Darl said don't write it. Pile didn't.
March 22: Denver, CO
x touched my dick.
March 23: travel day
Between Denver and Reno, we stopped in SLC at like 1AM and saw Justin Strange at The Pie Hole.
March 24: Reno, NV
Sweet band. Sweet zine. We got kicked out of a casino. Blood On The Wall. The Clean. I went to a Taco Johns and it sucktd.
More touring updates. On March 6, we left for Washington to start the next segment of our tour with chill hotties Big Ups and studly tough bros Pile.
13/02/14: Birmingham
At our first show outside of North America, we were informed by David Catmur (our new European TM) that we were "illegally loud." Later that night, we went to some party where Joanna Gruesome and their friends were drunkenly belting out some big hits from bands like Taylor Swift and Kleenex.
Finally. They're here. Speedy Ortiz in the UK. pic.twitter.com/HurjKllyRj

— Matthew Cooper (@matt_blonde) February 13, 2014
14/02/14: Leeds
Happy VD. Prior to Joanna Gruesome's arrival at the Leeds venue, someone strategically tagged the backstage area with hot pics of their guitar player Nicholls.
15/02/14: Glasgow
"I had the vegan haggis." - Sadie
16/02/14: Manchester
Our favorite Joanna Gruesome song is "Wussy Void,"
and we were all kinda bummed/shocked when they told us that they had never played it live. As it turns out, we're persuasive enough that they ended up debuting the song on this night at the Manchester show. (I personally got chills from how dope it sounds live.) Afterwards, Matt played an open mic set at the bar next door where Sadie bought everyone shots to celebrate Owen from JG turning 22, and someone put "22" by Taylor Swift on the jukebox.
"They also had the best wallpaper ever." - Sadie
17/02/14: Manchester
We didn't have a show on this night, but instead we were invited to play a few songs on Marc Riley's BBC6 show where we got to see him air guitar Neu!, Here We Go Magic, TEEN, Pink Floyd's "Arnold Layne" and Ezra Furman (Jonah from Krill's brother). We geeked out a bit when we found out that Marc used to play in The Fall, and we bugged him for a couple John Peel stories before we were outta there. (I'm in the weird little drum booth in the picture below.)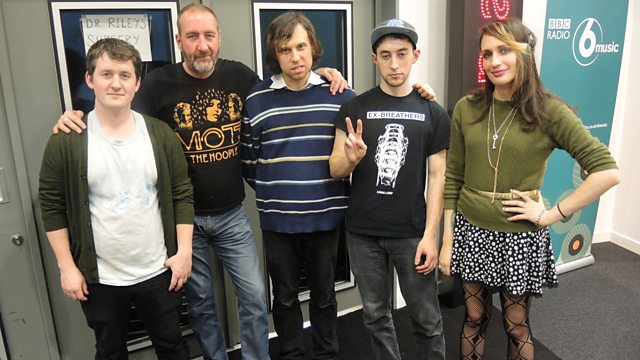 18/02/14: London
We're not typically comfortable playing acoustic sets, but NME said we could do any cover we wanted, so we chose "Bugman" from Blur. (Has this video gone up yet?)
did our 1st acoustic set for @NME, didn't hurt much MT "@lucyjones Speedy Ortiz in session & they sound spectacular pic.twitter.com/QeTqeWO41s"

— sadie dupuis (@killquilty) February 18, 2014
The show at Birthdays was one of the craziest we've ever played. It looked sorta like Cake Shop in Manhattan, except the crowd was just as intense as an Allston basement show. Peep
Luke Pyenson's dope review
.
19/02/14: London
XFM Session & ATP Show with Joanna Gruesome
20/02/14: Brighton
Last UK show. They kicked us out promptly at 11:00 for teen dance party. :(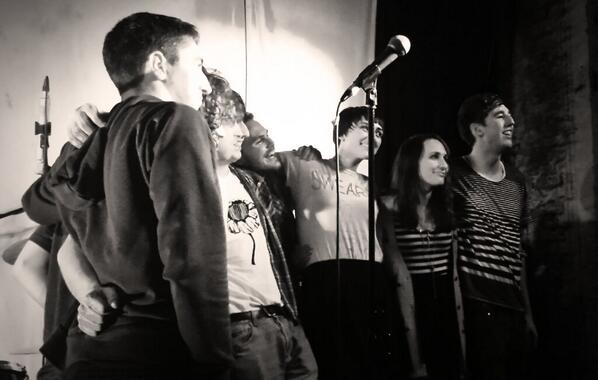 21/02/14: Paris
We saw no fireworks at the Fireworks Festival. But we did see Yuck (pictured below) as well as Childhood and Thumpers! Yuck's drummer Johnny entered our shared backstage room wearing a Greys t-shirt which was like secret code for "these guys rule." Dylan from Cloud Nothings lives in Paris, and he came out to chill as well. I saw the Eiffel Tower from a distance for maybe like 5 seconds, so I can finally say I did that. It was illuminated with green and blue glowing things if I recall correctly.
22/02/14: Lille
We played on a fucking boat. (It was anchored and docked, but still we played on a fucking boat.)
Also, I had the best croissant of my life.
24/02/14: Antwerp
learned about the american dinner pic.twitter.com/SB5BGiLptl

— sadie dupuis (@killquilty) February 23, 2014
25/02/14: Amsterdam
We saw Liam Gallagher's band Beady Eye who were definitely funny and annoying, but at least they played "Cigarettes and Alcohol." The crowd started Snapchatting during "WonderLOL." We weren't allowed to start the Speedy/Eagulls show in the venue upstairs until after Beady Eye was all done and finished. They used 4 dressing rooms. Also cat museum (see pics below), torture museum, weird film museum, Van Gogh museum.
"The modern art museum had a lot of cool wallpaper." - Sadie
coffeeshops are open 420 hours a day 420 days a week 420 weeks a year in amsterdam pic.twitter.com/HeUeD7yLpC

— sadie dupuis (@killquilty) February 25, 2014
26/02/14: Hamburg
Our first of 2 shows with Jealously Mountain Duo. We played in a WWII anti-aircraft bunker.
27/02/14: Copenhagen
Sadie finally meets her remote bandmates from long distance side-project-thing
Dark Warble
! (See pic below.) Also, I bought a beer called Miami Vice and another one called Dude. Both tasted amazing.
28/02/14: Berlin
Hung out with Chris Morgan and Gary Walker! 2nd of two shows with Jealously Mountain Duo!
01/03/14: Vienna
Travelled through the Czech Republic while jamming out to a "check" playlist:
Beastie Boys "Ch-Check It Out"
Beyonce "Check On It"
Beck "Cancelled Check"
Two Inch Astronaut "Check the Yard"
Ice Cube "Check Yo Self"
And a few episodes of Steve Brule's "Check it Out" series.
In Vienna, we ate Vegan-Schnitzel.
Darl drew stuff on the plane ride back to the USA.
So yeah. Tour was fucking dope.
Current Mood:

dizzy

Current Music:

disco doom
During our three-week "break" (HA, break, yeah right...)
...We played a couple shows with Los Campesinos...
...The best Berfest ever took place in late January/early-February...
...And also, we also did a couple release shows for
Real Hair
in Brooklyn and Boston. Here's some pics and things...
TUESDAY JAN 21 BOSTONWEDNESDAY JAN 22 MANHATTAN
Chillin balls with Los Camp...
FRIDAY JAN 24 BOSTON
Back in Boston again for giant beers at BERFEST. Fun times with Jeff Meff...
FRIDAY JAN 31 FORDHAM
There was a No One and the Somebodies tag on the piano at the coffee house...
FRIDAY FEB 7 BROOKLYN
Brooklyn Bazaar release show with Krill, Infinity Girl, Heeney and Odonis Odonis.
Fun pics on BV...
SATURDAY FEB 8 BOSTON
Tasty Burger release show with The Channels, Sneeze and Idiot Genes.
Fun review and fun pics from our homie Christine Varriale...
MONDAY FEB 10 MANHATTAN
In-Store at Other Music...
A review and some pics and a setlist were posted
right over hurr...
TUESDAY FEB 11 MANHATTAN
On this afternoon, we got to eat at Google's incredible cafeteria where we each probably consumed an appropriate amount of food for 4 normal-sized humans, but we are all incredibly obese under our loose clothing so no one can tell. During the Google hangout q+a interview with David Bevan, Senior Homie of SPIN Magazine, (which is still available to stream
http://www.youtube.com/watch?v=d3kt20KxgLQ
) we were all very stuffed full of delicious Google food. (Despite all of this, they still can't explain why the Android "Talk" app has to get entirely replaced by the "Hangout" app. Why can't we just use both? NOT COOL, GUYS.)
A few hours later, we were in Newark, New Jersey hopping on a plane to our next destination...
(to be continued)
Current Mood:

i got a hungry man's belly

Current Music:

nelly
Sup this is @MALFC
It's that time once again to update the journal because everyone's bitching at me to get it done. Guess how sorry I am that you've been hitting the refresh button on our livejournal for the past 2 months so that you can creep phone pics of us being boring and lame. Take a wild guess.
For two weeks in January 2014, Grass Is Green and Speedy Ortiz were servin' Dimes of Hard.
FRIDAY JAN 3 DANBURY CT
DAMBURY
SUP BADBEARD
WXCI kids came out to party. Fins played their Greatest Hits album in its entirety. Matty P was headbangin.
SATURDAY JAN 4 PHILLY
Devin McKnight's birthday. No cake though because cake sucks. The band and the cake.
SUNDAY JAN 5 BALTIMORE
Cool show started at like midnight or some shit. Some complainer dude on ILX was like "Speedy looked like they didn't wanna be there." Oh well if you had to play at like 2AM I'm sure you'd be thrilled. Roomrunner did kill. Dan Frome was probably headbangin. Denny was like "make sure you bring the football chair" and so here's a picture of Matt in the football chair. It took a long time to orally inflate...
MONDAY JAN 6 RICHMOND
Some girls gave us their fries at Strange Matter. Simpsons arcade game. Much love for Sundials.
TUESDAY JAN 7 CHAPEL HILL
Mike Caulo is nice and brought us to Merge Records.
WEDNESDAY JAN 8 CHARLESTON
"I broke and entered someone's house by accident and I thought I was going to get shot." - Sadie Dupuis
"I slept in Mustafa's bus." - Matt Robidoux
"Southern Femisphere was dope." - Sadie Dupuis
THURSDAY JAN 9 JACKSONVILLE
Fred Durst. I think this was the one where the dude was wearing a Zwan shirt. Self had played at this club.
FRIDAY JAN 10 TAMPA
We found a cool dog in a car and didn't see the fountain of youth. Someone traded us a bunch of books for a
Sports EP
.
SATURDAY JAN 11 TALLAHASSEE
We were later informed that this was the 2nd and final show at this venue (The Office Lounge), which figures since this was probably the best show of tour. Surface to Air Missive stopped over to hang out.
SUNDAY JAN 12 ATLANTA
Servin' dimes of hard. Pill (a.k.a. @pill4180) responded to @killquilty's tweet and said "I'm there" but he actually didn't come hang out. The next day we hit up Fat Matt's BBQ, but not until after Adult Swim let us touch things at their office and gave us Squidbillies cup holders.
MONDAY JAN 13 BIRMINGHAM
TUESDAY JAN 14 NASHVILLE
Even though we missed the Self show a few days prior, this did not prevent Gnarwhal from decimating skyscrapers. Also this was the release date of Grass Is Green's
Vacation Vinny
LP.
WEDNESDAY JAN 15 ASHEVILLE
Matt, Andy and Raya did a Hare Krishna jam session thing.
THURSDAY JAN 16 CHARLOTTESVILLE
Worst stomach pain of my life. Not joking.
FRIDAY JAN 17 WASHINGTON DC
PUPS OF THE DAY (yes, we know one of them is a cat)
SATURDAY JAN 18 PRINCETON
They had cute pigs.
SUNDAY JAN 19 HOLYOKE
NME accurately reported that I "flipped out, then calmed down."
Current Mood:

dimes of hard

Current Music:

dimes of hard