6/28/14 Pittsburgh, PA (Club Cafe)
Drove to Pittsburgh for 1 show and then drove back.
7/10/14 New Haven, CT (Toad's Place)
I recall some equipment problems at this show. I got asked to fill time with stage banter, which happens on occasion, and for some reason I leaked a spoiler about Root Beer Guy. Someone in the audience yelled "thanks, spoiler!" 20 minutes later, Guided By Voices were about to start their 2+ hours of rockage, so it ultimately didn't matter.
Everything you've been told about GBV is true. Darl says, "They were so beyond wasted." @ween_ebooks was among our company at this show, and Mitch Mitchell asked Darl, "Issat your old lady?" which is an expression that I don't think I've ever heard anyone say outside of the movies. During GBV, we walked past their door and there was barely a millimeter of space on their table not covered with empty Coors bottles. We unsuccessfully tried to get a copy of the set list, which probably had at least 60 songs on it. (
Actually 48
, but close enough.)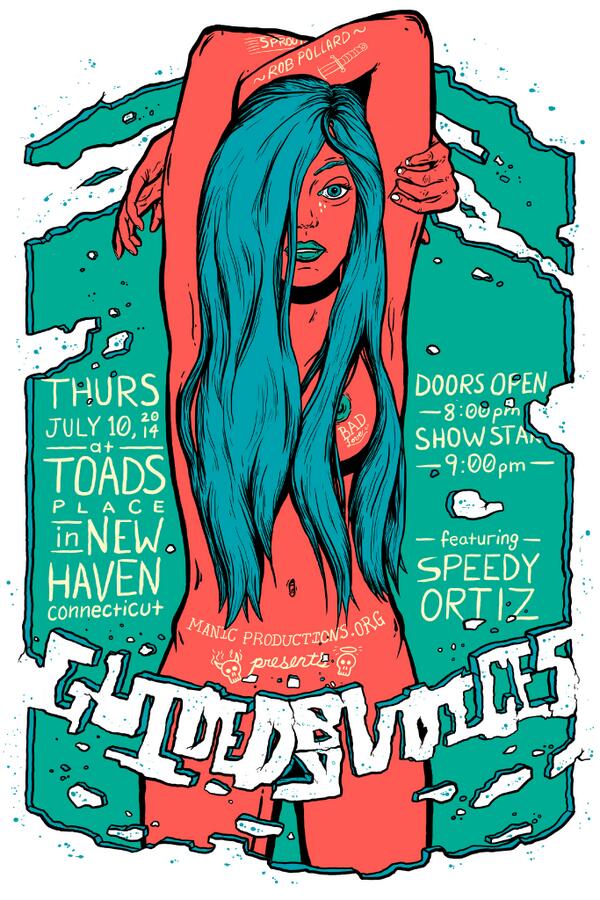 7/12/14 Brooklyn, NY (4 Knots)
Big outdoor show with Viet Cong, Mac Demarco and Dinosaur Jr. Pretty sure there are hundreds of pictures and videos from this show floating around. Here's our handsomest one, posted on Stereogum a few hours later:
We saw Pile, Big Ups and Alex G that night deep in Brooklyn at the big 12-band EIS show.
7/16/14 New Milford, CT (Bucks Rock)
A weird beginning to a weird weekend.
Between 6PM and 4AM, we learned and recorded this really difficult song called "Lost Something In The Hills" for Rookie Mag. (Way more difficult than our seldom-performed "Hot For Teacher" cover.) The article says:
"To get into the tune's spooky mood, Speedy O recorded it in the middle of the night."
The reality of the situation is that we're masochists who enjoy staying up until 6AM the night before leaving for a tour weekend (while in the process of learning 14 other songs for the forthcoming
Foil Deer
sessions).
It's entirely possible that none of us have heard this recording since the day it was mastered, probably because when you hear a song repeated for 10 hours straight it sometimes makes you not want to hear it again for a while. But we're happy it's out there, and I recall the recording came out super sweet. And of course, thanks to the great Ben Scherer for staying up late with us!
7/17/14 Kalamazoo, MI
We didn't have a show, but Kalamazoo is a frequent sleepy-time checkpoint for us, because we love it to pieces.
7/18/14 Madison, WI
Sweet block party show with tUnE-yArDs. They put our name on the marquee n stuff.
7/19/14 - 7/20/14 Chicago, IL (Pitchfork)
7/21/14 Toledo, OH (Frankie's)
Bar/club show with Perfect Pussy. They told us that Enon had played there 3 times. I tried to take a panoramic thing of the wall, but it didn't work that well.
8/2/14 Philadelphia, PA (Golden Tee House)
Extra juicy line-up with Swearin', Pile, The Holidays, Hound, Gunk & Pinkwash. This ultimately ended up as our last Golden Tee House show, and one of Gunk's final shows.
If you don't know Gunk, then you should fix that
. Resulting from spontaneous impaired judgement, we impulsively debuted 5 new songs. At least 4 of these were not on the original set list, and all of them were drunk. That's just the kind of parties they threw down at Golden Tee House. You never knew what was gonna happen. R.I.P. to probably our favorite spot to play in Philly.